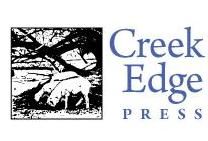 I recently had the privilege of using and reviewing the
Earth and Space
Task Card set from Creek Edge Press. The highlight of the set is a group of 35 4 by 6 inch index cards featuring topics of Earth and Space. Also in the set is a spiral bound letter size book detailing the approach taken by the course and suggestions and tips for setting up the course and learning environment to assist the student in learning the most they can from the course. Another feature of this book is a listing of possible resource titles. This is very important, as the student needs book resources to use the Task Cards.
Recommended resources
are also available at Creek Edge Press.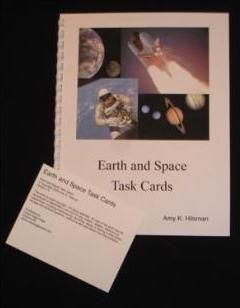 The cards are written and designed by a homeschooling Mom to be used in and complement Classical, Montessori, and Charlotte Mason inspired educational approaches. She desired to blend and bring to life these educational approaches for her own family. Thus the Task Cards use the Montessori approach of having many materials available for the student to use and experience, follow a Classical scope and sequence, and incorporate the nurturing/ living book philosophy of Charlotte Mason.This is not to say those who favor other approaches would not be able to use the Task Cards, but they most closely follow these approaches. If you are not familiar with these educational approaches, Creek Edge Press' website features several
helpful articles
. Because of this approach the cards are appropriate for all elementary levels, but with different resources and levels of parent/ teacher involvement and assistance.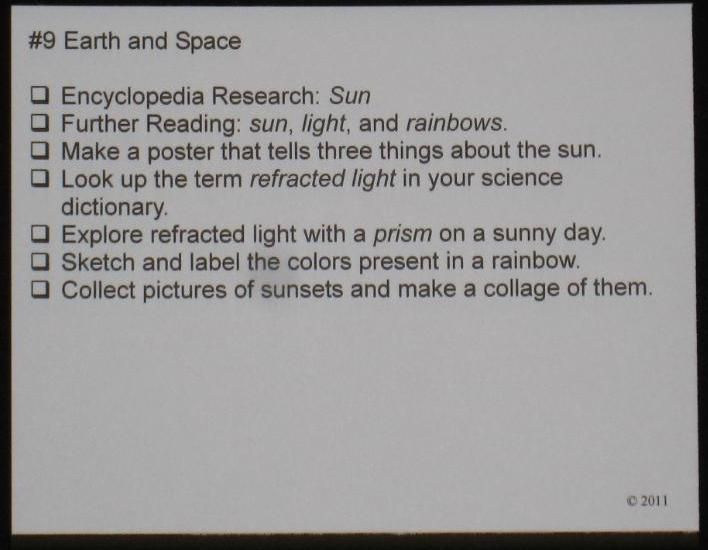 The Earth and Space Task Cards facilitate learning about earth science, weather, space, the planets, and constellations. Among the specific topics included are rain, storms, sun, day/night, rivers, caves, seasons, seasons, and space exploration.
Activities include research from Encyclopedia articles, reading non fiction resources, and then sharing knowledge in some manner. These may include making posters, charts, or diagrams, writing a story, sharing information in a booklet, or drawing and labeling diagrams. Several cards suggest watching a video or program. Generally supplies needed for these activities are easily found at home.
Creek Edge Press also offers Task Card sets focusing on Ancient, Medieval, Early Modern, and Modern World History, and Geography and Culture. Science sets are available for Life, Earth and Space, Physics and Digital science, Chemistry and Great Scientists. Additionally, Music and Composers, Art and Artists, and Grammar reinforcement sets are also available.Prices range from $18-$32 per set.The history and science cards are also available as complete sets.
When I received this set I shared them with both of my children and let them choose the topic they wanted to research first. My 10 year old daughter studied clouds, coral reefs, and icebergs. My 7 year old son choose the water cycle and wind. While they could have requested books from the library for their topic I did it simply because I had some general books already on hold and I wanted to get it done that evening so the library process would begin. If I was using the task cards for my whole science program I would purchase several of the compendium type resources suggested by Creek Edge Press as well as ones I found through my library. The cards would be too challenging too use if I had to rely on getting main resources from the library.
As the first task on the cards is Encyclopedia research I insisted that the majority of this was completed before they moved on to other activities. Thankfully our library has a set of encyclopedias from which individual volumes can be checked out. While reading the articles wasn't difficult, this step took both of my children a while when it came to writing the summaries.
When this was accomplished they did additional reading from the science encyclopedias and other non-fiction books while working on the projects on alternate days. The number of additional sources they read depending on what I could get from the library.
I love these cards and curriculum for so many reasons.
They are extremely flexible. Both my 7 and 10 year olds were able to use them easily. Some of the topics don't call for as much work as others and thus work well for younger children.
There is a huge variety of topics in the Earth and Space category. While some of them need to be done in order, I found a number could be plucked out of their numerical order and done when the children were interested.
The activities and steps on the cards clearly show what needs to be done and can easily be checked off. My son had a great sense of accomplishment when he finished all the activities on the water cycle card.
There is a great mix of activities. While all the cards begin with encyclopedia research the activities are varied and help the learner apply to real life what they read.
They engage learners in various ways. Not only is "book learning" guided, students can also learn to compare resources, and are provided guidance with hands on projects.
The task cards are a great step towards helping the learner become more independent and responsible for their learning. My 10 year old daughter was fairly independent in her research and projects. However, I did need to coach her regarding summary writing as this is a skill we have really only been working on this year.I like how they have to work, they can't just coast through the assignments on the cards.
They are compact and don't take much storage room. Many sets of task cards would fit in one card file. The accompanying book does not take much room on the shelf.
I found I didn't have to do any tweaking to make the Task Cards useable for us. This is most likely because they are written by a homeschooling Mom.
I know my children have learned something from all their work. As we have had several days of intense wind my son has talked about isobars and how close or far apart they are from each other.My daughter has also made spur of the moments about clouds.
Water Cycle Poster




Cotton Ball cloud chart
The biggest disappointment for my children was that there were few experiments or similar activities suggested. While this is not a major emphasis in the targeted educational approaches at this level, my children missed it. I have been looking through other resources to find experiments which would coordinate with the task cards they have completed so hopefully we can add that ourselves.
While not spelling out exactly what sources must be read, or exactly how a project must be completed, the Task Cards are very complete in the subjects addressed and the depth each is studied. When all research and activities on each card are fully completed, the student will have gained and applied a vast store of knowledge on the subject they have studied via the Task Cards.I feel I need to mention that the child will need to put some work into learning with these Task Cards. It is not an approach which just has the child read something and fill in the blanks.
As I mentioned earlier there are many different sets of Task Cards and TOS Crew members had the opportunity to review the set which they felt would work best for their family. To learn what sets other people used and their thoughts, visit the Crew Blog.

Disclaimer: I received a complimentary set of cards described above for the purpose of reviewing them and to enable me to write this review. I have not been compensated in any other way and all opinions expressed are solely my own.