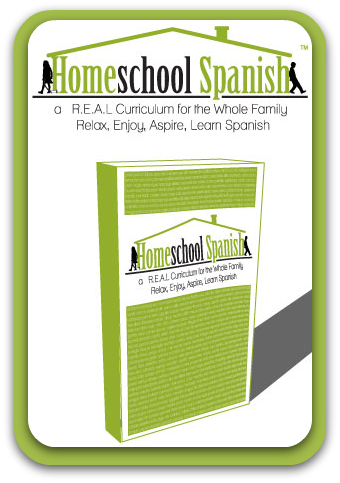 Homeschool Spanish is a complete Spanish curriculum for the entire family. The program currently available is geared to elementary ages with a high school supplement coming soon according to the website.
The Homeschool Spanish curriculum includes a textbook, workbook, answer book, and audio files. This bundle is available as a download ($49.95) or hard copy ($89.95) There is also a Daily Curriculum guide available for an additional cost with both of these bundles. The Daily Curriculum guide is not available separately, the bundle prices increase $10.00 if you wish to order it.
Ordering
is simple on the Homeschool Spanish website.
The audio files both introduce the vocabulary and phrases as well as the answers on many activities. The files are recorded by native Mexican Spanish speakers.
Homeschool Spanish is designed to incorporate foreign language lessons into daily life and lessons, something many homeschoolers have learned to do with multiple subjects.The curriculum uses listening, reading, writing, and speaking to fully teach the language. By emphasizing integration into daily life Homeschool Spanish makes learning Spanish like second nature and increases retention. There are 10 units with each unit containing 2-4 lessons or separate, but related vocabulary lists.
Vocabulary list topics include things like colors, numbers, family members, people, foods, body parts, clothes, transportation, places, months, days and seasons. Many of these are very appealing to and practical for children ( also practical for adults!)
Some of the more common activities suggested included keeping a journal in Spanish, making a board game, using puppets,or chalkboard type games and singing songs.Some of the more innovative ideas include using family pictures to practice people names, finding pictures in magazines to match with food or objects, or writing and illustrating their own comic strips.
There is not a lot of focus on grammar in the program, but each unit concludes with several pages explaining grammer related to that chapter.
Homeschool Spanishs' website provides many cultural
website links
so that in addition to learning the language students can get a peek into the Mexican Spanish culture.Topics included in the links are history, geography, people, animals, and just plain fun.
You can download samples of several of the curriculum
here
.
My Thoughts
Homeschool Spanish provides numerous ideas for games, activities, and personal interaction which aid learning and retention while making the process fun and less tedious and dry. By using so many different methods, this program easily works for students with many differing learning styles. There is something for the auditory, visual, and tactile learners.
I love all the teacher support present in Homeschool Spanish. I know a lot of time and effort went into the writing and compiling. Even though I already use a planner, there isn't a whole lot of room to write down specifics of what I want to do. Using Homeschool Spanish's Daily Curriculum guide for just this one subject I found plenty of innovative ideas for making learning fun and increasing retention. There is also a blank curriculum planning grid in the book which allows the user to write out their own plan of activities for a week.There is plenty of room for writing plans covering different concepts and activities related to the Spanish curriculum. I can very easily clip it over my planner page for the week and have a detailed plan for Spanish handy. By having a place to write down not only the text or written work I want accomplished each day as well as the websites to visit or special activities I find it so much easier to do creative things with my children. It was also easy to see if I had chosen a variety of activities.
I also like how simply and cleanly the book pages are laid out. There is a small heading at the top and then two separate columns featuring vocabulary and phrases with their English translation for the lesson. The bottom of the page has reminders to the instructor.
I do not know Spanish, so having the audio is a must for me.The audio answers are also great. Not only can my children check their own work this way, but the proper pronunciation and inflection is reinforced.
I also love all the ideas for the extra, reinforcement activities for each lesson. For the lesson on colors I used a crayon of each of the colors in the lesson and had my children name the color in Spanish or they took turns asking for a crayon in a specific color in Spanish.
One additional idea I came up with during our break was to check the collection of board books at our library for some covering the same concepts as we have had so far in REAL Homeschool Spanish. Board books generally have shorter sentences of present concepts singularly so they would be easier to read for a beginning language student than a longer book.
My 10 year old daughter appreciates that the program is not for little kids. She likes not having cartoon characters or cutesy pages. She enjoyed the written activity and puzzle pages. She liked the variety in these pages. They do not feature the same puzzles and written games each lesson.
My 7 year old used the program and enjoyed the audio portions, games or activities, and the cultural studies but was easily overwhelmed by the workbook pages. Even using just one a day was too much for him at times due to the amount of writing. Additionally, not having something to watch at the same time as listening didn't help him pay attention.
Learn what other TOS Crew members thought by visiting the
Crew Blog.

Disclaimer: I received a free download of this product to enable me to write this review.I have not been compensated in any other manner and all opinions expressed here are solely my own.