K5 is a
online math and reading program
. It is designed as a supplemental program to be used alongside a childs' regular curriculum or during vacations.All of the work in K5 is totally online, there is nothing to download or take up space on your computer.
K5 features activities in the subjects of reading, math, spelling and vocabulary. Reading instruction includes phonics, sight words and comprehension. Spelling and vocabulary are together, but its possible to choose one or the other. Math topics include numbers and operations, measurement, and geometry. Math facts are also drilled. In total, K5 features over 3,000 lessons in these subjects areas. With the exception of the spelling lessons, all the lessons and work are presented in full color and a visually appealing manner.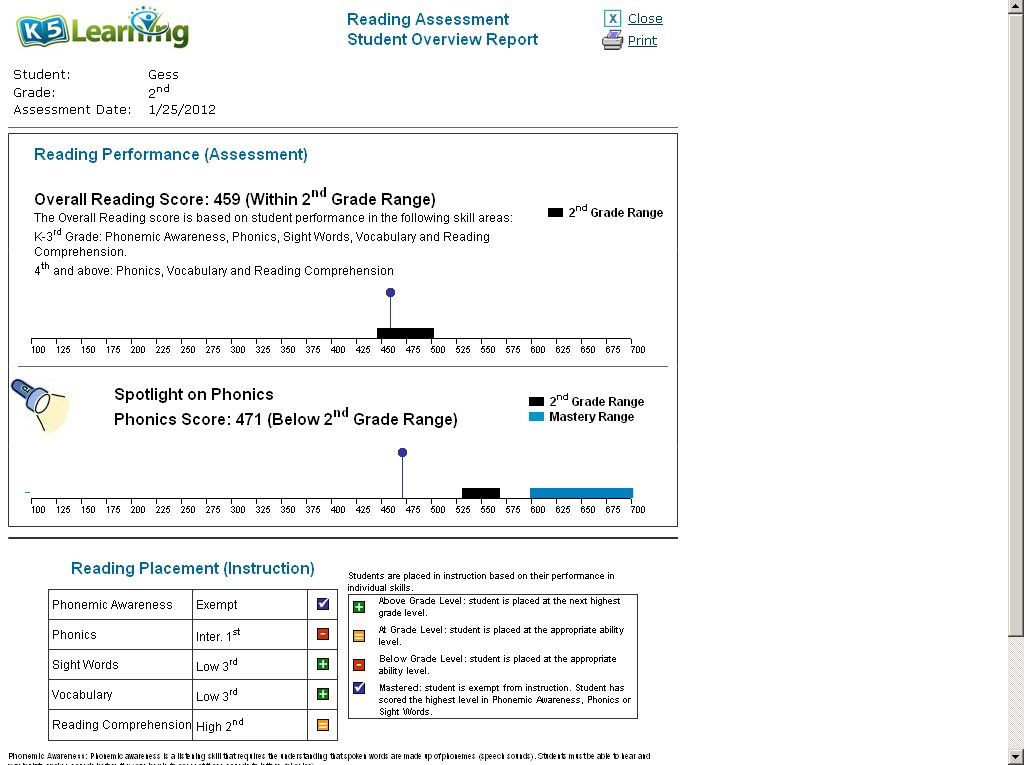 The K5 program includes
online math and reading placement tests
. After the assessments are completed the instructional material is personalized to the specific skill levels of the child.When the child begins using K5 the lessons are automatically selected and follow in a preselected order. However, it is possible for the adult who controls the parent account to make changes to the lessons. Additionally, K5 offers
sample lessons
and a
free trial.
K5 is full of solid educational content, games and entertainment are kept to a minimum. However, there are activity rewards with limited time given to the students upon reaching predetermined milestones in their academic work. These are play time in math drill and the other is a short movie after spelling 50 words correctly. This movie features an animated line drawing in a story.
As the name implies, K5 features instructional material for students in grades Kindergarten through 5th grade.
K5 Subscriptions are:
Monthly Subscription
First Child.......................$25
Additional Children..........$15
Annual Subscription
First Child.......................$199
Additional Children..........$129
I liked the length of each activity, about 3-5 minutes, as this prevented my children from getting bored with them.
Additionally, I appreciate the bite sized practice offered by K5. The material presented is long enough to refresh the students mind about process and give practice, but not overwhelm them with too much practice and thus become sloppy in their work. This is particularity true with the math drills. The student drills several facts until they remember the answer. Drilling facts in this manner is a lot more fun than flashcards.
Right after receiving access to K5 for this review, my children took the placement tests. The tests were easy to take and comprehensive. The reports I received were easy to understand. They explained my childrens' level both in words and with a timeline like visual. I believe they are fairly accurate as the results I received were consistent with their performance on daily work.
Upon completing a predetermined amount of math drill, my children were awarded 5 minutes of play time in the arcade. They enjoyed this break from the learning activities and particularly enjoyed the spot the differences activities.
Filling in the blanks on the advanced math activities (my daughter used the 5th grade level) was challenging. It took her quite a while to figure out how it worked. For us it seemed the order of filling in the spaces for showing work and answers did not seem logical all the time.
Another challenge for my children was the clarity of the words in the spelling exercise.The voice was not always clear when it gave the word and thus spelling was more challenging. One element which helped with spelling was the presence of a definition for the target word. Even with the vocabulary clues some words were difficult to tell what they were.
I like the convenience and ease of math, reading, spelling, and vocabulary review and practice in one place.My children enjoyed using K5 to interactively practice some of the items they are learning from their books. I did notice some improvement in my daughters math abilities after using K5 math lessons.
Other TOS Crew members had the opportunity to review K5 as well. Check out the Crew Blog to see what they had to say.

Disclaimer: I received a free trial to this program to enable me to write this review. I have not been compensated in any other manner. All opinions expressed here are solely my own.