Go Science is a 6 volume DVD collection demonstrating and explaining scientific concepts. Physics, Chemistry, and Life science concepts are the focus of the set. Running time varies per disc: the ones I reviewed were 45 and 60 minutes.
As a TOS Crew member we reviewed DVD's 3 and 4. Disc 3 features experiments relating to Magnetism, Electricity, Engineering, and Design. Disc 4 features Chemistry, States of Matter, and Life Science experiments.
The host, Ben Roy, demonstrates numerous scientific principles in front of a live audience of children of all ages. Many of the experiments he demonstrates require materials often not found in a home, so its likely viewers have not seen many of them or tried them for themselves. Not only does he interact with the audience, some of his questions are addressed to his viewers.
There is a definite religious influence in these episodes. God and Creation are mentioned at the closing of each segment as well as some references are also made throughout the episodes.
Each DVD is available from
Library and Educational Services
for$8.97.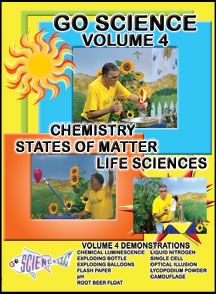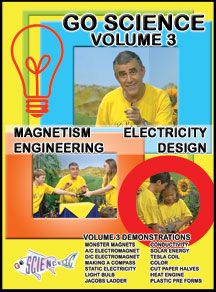 Library and Educational Services is a small family wholesale distributor offering a variety of books and educational materials at discounted prices to homeschools, schools, churches, libraries, missionaries, and licensed day cares. They are located in Michigan.
My Thoughts
Both of my children enjoy science and can't get enough. So they were very excited to watch these experiment demonstrations. The explanations of what is being done, results, and the science behind it is very through.
Both my 8 and 11 enjoyed watching the demonstrations. They both enjoyed the demonstrations because they were able to see experiments they wouldn't normally be able to do. They also saw a new perspective to some demonstrations they had seen or done previously.
While each DVD has limited topics, the experiments and demonstrations featured are varied and demonstrate numerous principles.
However, I was very disappointed in one of the demonstrations with chemical changes in Volume 4. Mr. Roy asked what Bible story tells about a chemical change and his student helper answered with "Jesus turning water into wine". He replied, "Jesus turned water into sparkling grape juice". This is an error as the Biblical text clearly states "turned water into wine".
We also experienced some frustration with the audio quality on both discs. The volume varied from demonstration to demonstration and many had quite loud feedback.
Other TOS Crew members had the opportunity to view these and other Go Science DVD's. See what they had to say at the
Crew Blog
.

Disclaimer: I received gratis copies of the above mentioned DVDs for the purpose of writing this review. I have not been compensated in any other manner. All opinions expressed here are solely mine or my family's.