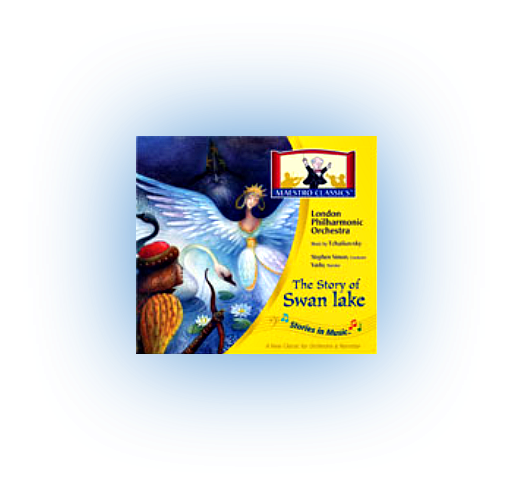 Maestro Classics Stories in Song
The Story of Swan Lake
www.maestroclassics.com
CD
$16.98
MP3
download $9.98
Swan Lake is written for children age 5 and older and their families.
Maestro Classics Stories in Music introduce children to classical music and stories, placing equal importance on both. Stories in Music are more than just CD's.They are almost mini unit studies, drawing together information from many areas to give the listener/student a well rounded, in depth, full experience.They make it exciting and interesting to explore some of the finer things in life at a level appropriate for children.
Maestro Classics Stories in Music The Story of Swan Lake on CD features the music composed by Pyotr Tchaikovsky for the ballet of the same name. Music on the CD is played by the London Philharmonic.Swan Lake is the story of a young prince who has reached the age to wed. He is content with his life as it is and questions how he can wed someone he does not love. During the ball at which he is to announce his choice of bride he skips out and meets a swan who used to be a princess. She tells him of the spell placed on her and how it can be reversed.He promises to help her and claim her for his own. Yet, as in most fairy tales something happens and his plans go awry. He is tricked and will not be able to help the swan, but in his grief he is still able to spend time with her.
Additional tracks on the CD contains biographical information about Tchaikovsky, a brief segment about the music, Speed Metal Swan which is a heavy metal arrangement, and a little ditty entitled "Tchaikovsky Wrote a Great Ballet" and a sing along segment with performance tips for the same song. The total playing time of the CD is just under one hour.
The CD also comes with a 24 page booklet featuring puzzles, activities, and information. The booklet includes a dot to dot,maze, and the story in rebus form for the youngest listeners. Older readers/listeners can complete a crossword puzzle as well.Biographical facts and a picture of Tchaikovsky are also found in the booklet. Biographies of the conductor/composer, narrators and guitar player are also found in the same booklet. You will also find the words and music to the little ditty on the CD in this booklet. There is also a music theory activity explaining the concepts of major and minor in music. The difference between acoustic and electric guitar are explained as well. This booklet is sized to fit inside the tri-fold CD case.
Maestro Classics varied line of Stories in Music CD's feature literature selections as well as Classical music. Some of the stories they bring alive through music include Mike Mulligan and His Steam Shovel, Casey at the Bat, The Sorcerer's Apprentice, and Peter and the Wolf.
The Stories in Music CD's and booklets are educational by themselves, but if you are inclined to explore the topics even further, numerous in-depth lesson plans and ideas are available on
Maestro Classics website
.These lessons plans cover many subjects and include experiences for different learning styles.
Last year I had had the opportunity to review Maestro Classics Peter and the Wolf. So I was thrilled when I learned we had the opportunity to review Swan Lake. Once again we were delighted with this professional arrangement and recording of a great piece of music. Maestro Classics takes a great piece of music and makes it educational while keeping it fun and exciting. Maestro Classics makes it easy and enjoyable to enrich a childs life with classical music and timeless stories.
We all really loved listening to Swan Lake.I had heard about the story, but didn't know the plot or anything about it except it was a ballet. By listening to this CD not only did I (we) get to learn the story we were also able to hear and experience the beautiful music. I was concerned my 7 year old son might not enjoy this recording, but I was wrong. He liked the story and didn't even realize it was a ballet. He especially enjoyed the Speed Metal Swan selection and was disappointed it wasn't longer. My 10 year old daughter loved every minute of the CD. I think I can honestly say I loved it as much as they did.
Both of my children looked through the booklet, but did not do any of the writing activities. They are not big fans of pencil puzzles, except my son does like mazes. He has also liked rebus stories and thought it was cute. His favorite parts of the booklet was the information about the guitars and rock professor. No surprise there! I like the simple sing a long score in the center of the book. I know that my daughter would have no trouble playing that on the piano.
I think any family, not just homeschoolers, would find Stories in Music interesting and exciting.Any of the Stories in Music would be great to listen to in the car or for a family night activity. If money was not an object, I would purchase the rest of the CD's in the collection for my family. I know we will be listening to Swan Lake many times.
I believe listening to and learning good music is a valuable life experience, but just choosing a random CD to listen to does not necessarily help the listener know much about the piece or composer. With this CD and booklet, Maestro Classics has put a lot of information together in one source to make learning about music and literature simple.
Other members of the TOS Crew also had the opportunity to review The Story of Swan Lake. See what they had to say at the
Crew Blog
.

Disclaimer: I received a complimentary copy of the CD to use so I could write this review. I have not been compensated in any other manner and all opinions expressed here are solely my own.