Activities
Integrating
Math and
Science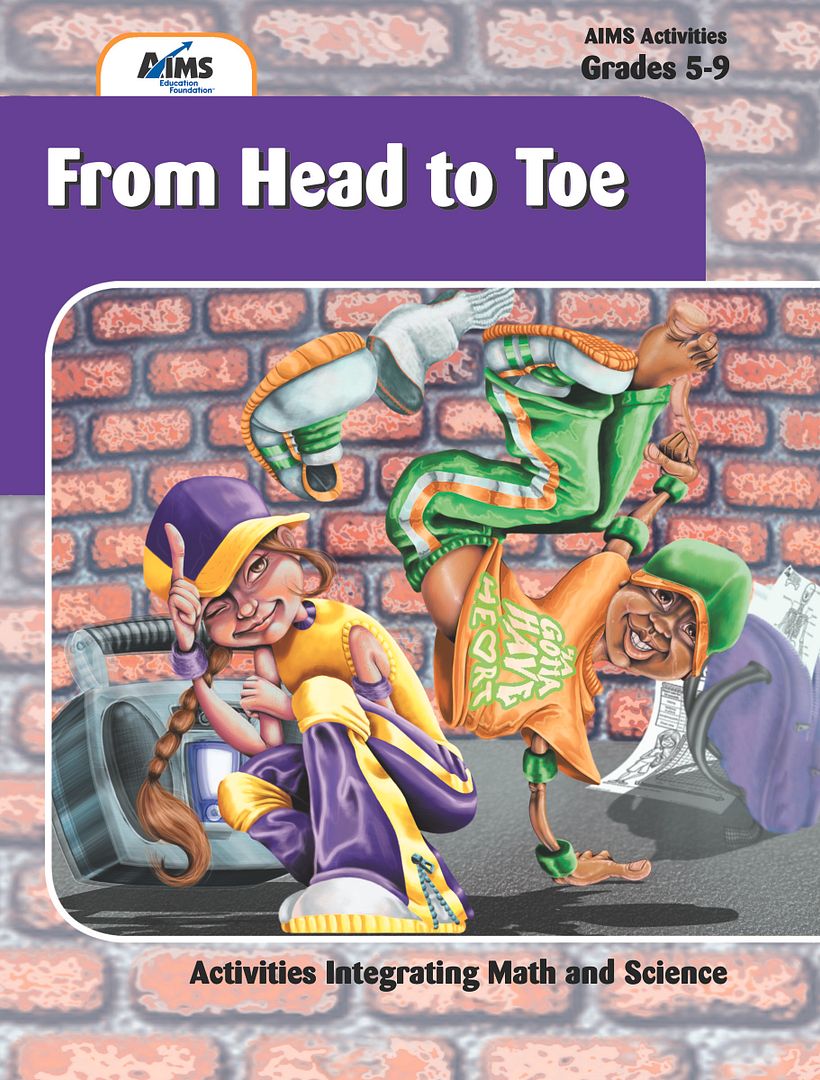 AIMS Education Foundation produces materials to teach math and science topics in an hands on engaging manner. Unlike many traditional teaching resources which separate each subject, AIMS materials integrate multiple subjects in ways which more closely imitate real life.
From Head to Toe is written to teach youth in 5th thru 9th grade (the recommended level) about the human body. The students are given the opportunity to explore and learn about the human body with many hands on activities.The nervous, circulatory, respiratory, digestive, and urinary systems are studied. The sense organs are also included.There are a total of 39 lessons, including two wrap up activities.
Each lesson begins a one page poster showing the key questions and goals for the lesson. The first student item is a rubber band booklet which is a full page divided into 4 parts. They are designed to be copied front to back, folded, and held together with a rubber band. They present to the student the main information about the body system or part. These are illustrated in a simple and engaging manner with 2-4 sentences for page.After these are read and discussed with the included questions, the lesson progresses with a hands on activity. Some of these are simply cut ad paste, but others require movement and cooperation between students.
The From Head To Toe curriculum is $24.95 for the teachers book and CD which contains all the printables in the book in pdf format.
AIMS Education Foundation offers books covering a variety of math and science topics for Kindergarten through High School. A number of their resources are available in pdf format as well as traditional bound books. A variety of supplies and manipulatives are also available from AIMS.
Several months ago, I also had the privilege of reviewing another book from AIMS which we really enjoyed. This time From Head to Toe is another winner with my children. They loved everything we have studied from the book.We have discussed the brain, nervous system, and skin and completed many hands on activities. Both my 7 and 11 year old used the material together. Except for pronunciation of some terms, my youngest had no problem understand the text and doing the projects.
The mini books are a great way to teach the majority of the topic and allow them both my children to participate with their own copies. Copying on two sides is not easy with my printer, so I simply made single sided copies, cut the pages apart and stapled the booklets together. We will make some type of holder in which to store all the booklets for future reference.
The activities allow them to show what they have learned and provide an easy means of review as well.The quantity and variety of activities integrated into the text is one of my favorite features of the book. Even though I have to assemble the supplies, the work of choosing an activity is done for me.
One of the projects we did was making skin models. I did modify the directions to make the models larger. The original dimensions called for a model of approximately 3x4 inches, but I simply cut larger pieces of foam to make a model of 4 1/2 x 6 inches. I did this to avoid the possible frustration of not being able to place all the items on the model. As I enlarged the model base it would no longer fit on the included form, so I had my children make their own color/item key. We just attached both of these to color paper.
Other projects include making a model heart, crafting pair of model lungs,testing skin for sensitiveness, constructing a paper skeleton, and labeling brain and bone models. Templates are included to help students construct a body diagram with transparency overlays. The wrap up activity is a body scavenger hunt. The clues are provided and the students task is figure out what body part is referenced.
I appreciate having the included CD with all the printables. It is so much easier to pop the CD in the computer and print what I need rather than copy from a bound book.
Some of the hands on activities in the book require materials/ supplies which are not easily obtained. For example a heart activity requires a one way valve. I have looked in several local stores and school supply outlets and not found one. While AIMS does sell this item, I would not know it was needed until after looking at the book.
While From Head To Toe is generally adaptable to the homeschool setting, an activity designed to show how the nervous system works had to be redesigned as it is called for teams of students.In this activity the teams raced against each other to see which team could send a hand squeeze message from one end to another quicker. Instead we recalled what a friendship squeeze is. (Often in scouts, at the close of an event, the participants gather in a circle, sharing closing thoughts, and squeeze their neighbors hand in a gesture of friendship.) Several other activities have directions for a number of students, but I think they will not be as hard to tweak for only several participants.
Overall, I like the materials I have seen from AIMS. I believe they are innovative and applicable in many ways to life. Additionally, they require students to interact with the material and think through it. I would not hesitate to purchase other publications from AIMS.
Other Crew members had the opportunity to review this and other books from AIMS. Learn which books were reviewed and other families thoughts at the crew blog.

Disclaimer:As a member of the TOS Crew I received a gratis copy of this book in order to write this review. I have not been compensated in any other manner and all opinions expressed here are solely my own.