The Classical Astronomy Celestial Almanack

A Visual Representation of the Sky
February 2012 edition
$3.00 available from
Currclick.com
First of all what is Classical Astronomy? What makes it different from searching the sky with a telescope and sky chart in hand? Well, from the
website
..."Classical Astronomy is the traditional practice of observing the sky, to tell time, and to navigate by the Sun, Moon, and stars." From reading articles and information there I get the impression one big difference between Classical astronomy and traditional astronomy is technology. Classical astronomy doesn't need fancy telescopes or other equipment, maybe just a pair of binoculars and some information about where to look.
Jay Ryan, the website author has produced a monthly guide to the skies; The Classical Astronomy Celestial Almanack. Although small in size this 20 page pdf is an amateur sky watchers dream come true. It is jam packed with loads of information about all the wonderful activity occurring above our heads this month along with teasers for what is yet to come this year.There are a lot of special things to see in the sky to look forward to all year.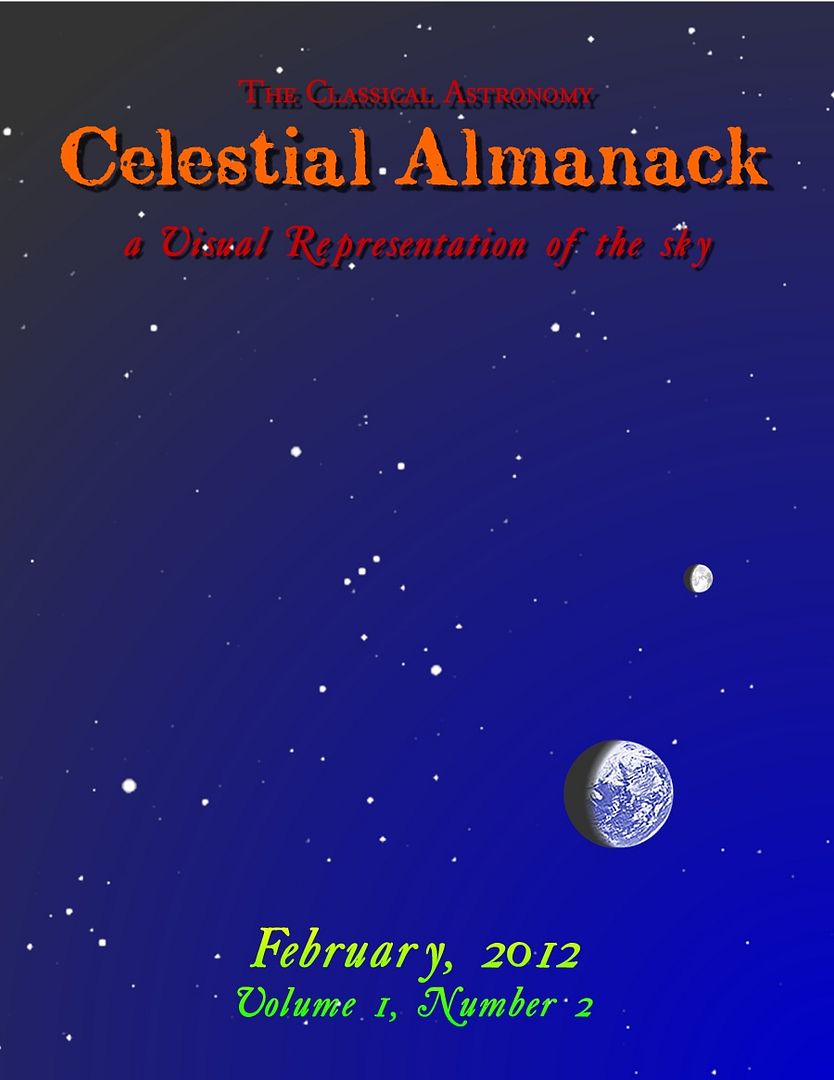 In the Almanacks' extensive discussions of the position of the planets and stars for this month you will find full color charts and pictures showing the positions of the constellations, their positions relative to planets and the moon and detailed descriptions of where to look for them in the sky. There is also a discussion and diagrams of the suns position and relation to the constellations if they could all be viewed at the same time.
Of special interest in this February edition is discussion and dating of the conjunction of Mars and Venus, a very rare event. The reader is told where in the sky to look and given detailed pictures of the angles. positions, and dates of various phases of the conjunction. With all this information sky watchers can become familiar with the path and angles of Mars and Venus and track their movement toward the conjunction in March.
The Almanack discusses many objects of the sky while giving both their history and what they will be doing in the near future. In discussing the constellations, diagrams are presented for the reader, minus all the additional lines and embellishments often found on constellation charts. I think this allows the reader to concentrate on the stars and makes it easier to look for them in the sky.
This issue of the Almanack features a brief history lesson on the reason for leap year as we celebrate it this month.Discussion of historical calendars reminds or teaches readers how this month has come to be set up the way it is.Events in the liturgical or church calendar are also referenced in their connection to celestial events. Rounding out the opening material is a calendar listing each date, day of the year, a significant event, moon phase and significant celestial events. I imagine this information is similar in each months issue, just tailored specifically to that month.
A complete astronomy curriculum, Signs and Seasons, is available from
Classical Astronomy
as well.
Generally in my reviews I try to keep my first part to simply facts about the product and then my reaction towards the end. While I have tried to do that here, I realize I have let some of my thoughts slip in above. So I do not know how much more information I have to add at this point.
I do need to say I find this Almanack to be very easy to understand and full of great information. It is written in a very conversational tone which makes it easy to understand the first time through. However, you will probably want to look through it more often as the month goes by and the stars and planets change their positions. While there is a lot of scientific information it is presented in an uncomplicated manner so most family members can understand and appreciate what is happening.
Another neat feature are the star ratings sprinkled throughout the guide. These simply tell the level of difficulty for finding a particular constellation. Many of these are one star, which means they are totally easy to locate.
After reading the Almanack I believe I could go outside, look up, and find some of the constellations and celestial activity mentioned even though I live in town and thus have to deal with a lot of artificial light.Now, I just hope we get a clear night to be able to look at the sky.
I am also encouraged to explore the night sky more simply because of the authors enthusiasm and writing style. From reading both the website and the Almanack I know he is passionate about his topic and wants to help other people know more about as well.
I give this a 5 Star rating.
Other TOS Crew members had the opportunity to review the Celestial Almanack also. See what they had to say at the Crew Blog.


Disclaimer: I received a free download copy to enable me to write this review. I have not been compensated in any other manner. All opinions expressed here are solely my own.