See -N-Spell Spelling and Vocabulary
Quick Reference Guide
1-630-236-5592
http://www.see-n-read.com/
See-N-Spell sells for $9.99
1-630-2
1-630-236-5592
36-5592
After conversing with many people over the years I have come to the conclusion spelling seems to be a skill which people either get intuitively or have to work extremely hard to have some level of success with. For those who have to work at it there can be intense frustration when it comes to writing and expressing themselves non verbally. Possible solutions to the dilemma include using easier words or just adopting an attitude of not minding what misspellings are present. However, the writer may have to trade spelling ease for clarity of message or give the reader the impression they are not as well spoken as they actually are.
An often used solution to spelling dilemmas is pulling out the dictionary and looking up the desired word. However, this is often viewed as a chore for many reasons and thus something to be avoided. A dictionary is also challenging when looking up words whose beginning sounds can be spelled several ways.
For all of these hurdles and more the experts of See -N-Read have developed a revolutionary spelling tool, See-N-Spell Spelling and Vocabulary Quick Reference Guide.

See-N-Spell is a 40 page paperback book modeled after a spelling dictionary. Generally each letter has its own page and lists nouns, pronouns, prepositions, conjunctions, verbs, irregular verbs, adjectives, adverbs, and homophones beginning with that letter. Each of these headings is in a slightly larger type size and bold as well as being in a gray bar.There is also room for notes at the bottom of each page. If applicable, there is also a note about other beginning letters to check if the sound can be spelled several ways. Another handy feature in the guide is a list of commonly misspelled words. Some of these are the same as in the alphabetical lists, but there are additional words as well.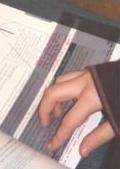 See-N-Spell also includes a See-N-Read reading tool to assist the user in marking their place while copying their chosen word. See-N-Read is a handy device which allows readers to focus on one line of text at a time, by slightly darkening the surrounding lines but not completely obliterating them.
See-N-Read is a tool used to increase reading fluency and efficiency.See-N-Read is also available for online reading.
See-N-Spell, as well as these other products, can be purchased at See-N-Read's web
store
.
My 10 year old daughter has struggled with spelling quite a bit over the years, so I was excited to have the opportunity to review See-N-Spell. While we have tried a number of products and approaches I am still holding out hope that there is something which will help her overcome this hurdle. I think to some extent See-N-Spell has helped her written spelling. She seems pleased with the book after her frequent use, but has also expressed the frustration that words she's wanted are not included.
My seven year old was also capable of using the book, however he didn't have many occasions to use it as he is not doing a lot of independent writing.
I like the clear and simple layout of the book. Words can be found quickly and their proper use can be verified by reviewing what part of speech they are. Another plus is that the whole book is done in high contrast black and white with only a little gray to delineate part of speech headings. There aren't colorful pictures to distract or lead the user into a tangent.
We didn't use the See-N-Read tool with See-N-Read as I knew it would frustrate my daughter to have to move it around to find the word she was looking for.
One thing which would make See-N-Spell better for us would be the cover being a color to it would be easier to find. Being a narrow saddle stitched book it was often hard to find on the shelf or among other papers.
While many reference books can be shared by a family, I believe See-N-Read is one resource which would benefit each student most if they had their own copy.This way each user can make their own notes and markings to personalize and get the most out of See-N-Spell.
Learn what other TOS Crew members had to say at the Crew Blog.

Disclaimer: I received a free copy of this book to use for the purpose of writing this review. I have not been compensated in any other manner and all opinions expressed here are solely my own.