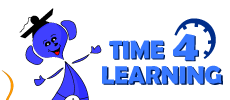 Time 4 Learning
http://www.time4learning.com/
(954) 771-0914
$19.95 a month for the first child
$14.95 a month for each additional child
Lesson Content is available for Preschool through 8th grade
Time 4Learning is an online curriculum covering the subjects of math, language arts,science, and social studies. It can be used as a whole or supplemental curriculum as well as over a break period to keep learning and skills sharp. Lessons are available for preschool through middle school. While most of the lessons and learning are done interactively on the computer screen, there are printable worksheets which go along with some of the upper level lessons.
In addition to separate accounts for each child user there is a parent account with lots of helpful features.The parent account has access to progress reports for all child users, lesson plans, lists of items needed for science activities as well as a parent forum.
In addition to the lessons, the child has access to the playground which features a variety of games and other activities. Not only does the playground feature games, there are also activities, such as comic strip creating available.
Time 4 Learning can be customized for each child. While the adult does choose a grade level for the child to begin at, there is also access to two other levels at the same time and changing to a totally different level is easily requested via a form on the parent log in site. It is also possible to choose how long a child must spend on lesson activities as well as how long they can "play" on the playground.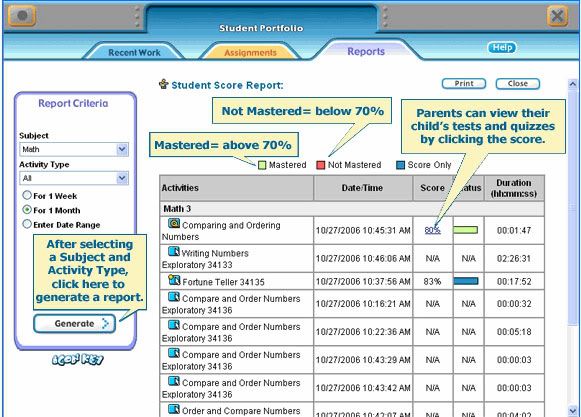 One of the Report options
There are
free lesson demos
available on the website, but they do require registering to view.
How we used Time 4 Learning
My 7 year old son used the lower level program at the 2nd grade level and my 10 year old daughter used the upper level at the 5th grade level.We have used it as a supplemental program, not a main curriculum. Because of this I have mainly been letting them choose their activities and lessons.
Second Grade Math Activity
The lessons seem to be easy for my son. I don't know if it is due to their level or if it is just that he is working above grade level. Due to this he has not been as careful in listening as he should. Some of the quiz/test questions need to be listened to/ read to the very end in order to select the correct answer. I have experienced this with him in other areas, it is not a problem exclusive to Time 4Learning.
The information on the screens in the 2nd grade level is read to the student, so I would say that this could be used fairly independently by most students. Having said that I did need to sit with my 7 year old in order to encourage him to take his time on his work and do his best. Rushing through things is a personality trait of his.
I contacted Time 4 Learning using their form to request level change for my son. While I was doing this I forgot to change the student name on the form so I was asking to have my daughters levels changed. When I realized my mistake I sent them a personal email explaining what I had done. I did this in the evening and by 1 pm the next afternoon I had received emails saying the levels had been changed. Upon examining their accounts I saw that the levels were what I had requested.
My daughter has used the 5th grade program. These lessons seemed to be about right for the 5th grade level. Many of the lessons and activities in the Language Arts, Language Arts Extensions, and Vocabulary sections are presented by cartoon type animated characters. Some of these characters exhibit traits related to the points they are trying to teach. Others have such exaggerated behavior that the student will most likely remember the character and thus remember the information presented.
My daughter really enjoyed the Literature activities found in the Language Arts section. I really appreciate this as she has she has not been excited about exploring literature before even though she does enjoy reading.
The World History activities have also been interesting to her. She has been able to connect information in these lessons with what she already knows and is very excited. She was also excited to see the lessons and activities about Latin and Greek roots.
Pros
At both levels Time 4 Learning was very easy for my children to navigate. They could easily select the subject they wanted and then find where they had left off or choose a new topic.
I liked the limited time on the playground. My son especially has difficulty leaving computer games so it is beneficial for him to have a set time limit that he can't get around.
I also appreciated having a list of all the items needed for the science experiments. It was so much easier to know in advance what was needed than to have to scramble for materials.
I also liked that there is a lot of vocabulary presented in all of the subject areas. I feel this is one area which we haven't concentrated much on, so this was a great benefit to my children.
Cons
It is so child user friendly that I could very easily get caught up in what I was doing and not pay attention to what they were doing.
I did not like that the child would be kicked off the playground in the middle of an activity or without any warning. I am wondering if it would be possible for a window to pop up when there is only a short time left.
I looked at the parent forum, but did not spend much time there. It is broken down by states, in hopes of helping parents connect with other parents in their area. It seemed to me that a lot of the posts there were not very current.
As a note: at least one of the Science topics my daughter worked through contained evolutionary/old earth references and assumptions. While I believe it is important for my children to understand what evolution is and be exposed to it, I know that not all parents want their children exposed to the theory.
Read what other TOS Crew Members have to say on the Crew Blog.

Disclaimer: As a member of the TOS Homeschool Crew I was given a free month subscription in exchange for writing this review. I have not been compensated in any other manner and all opinions expressed here are solely my own.