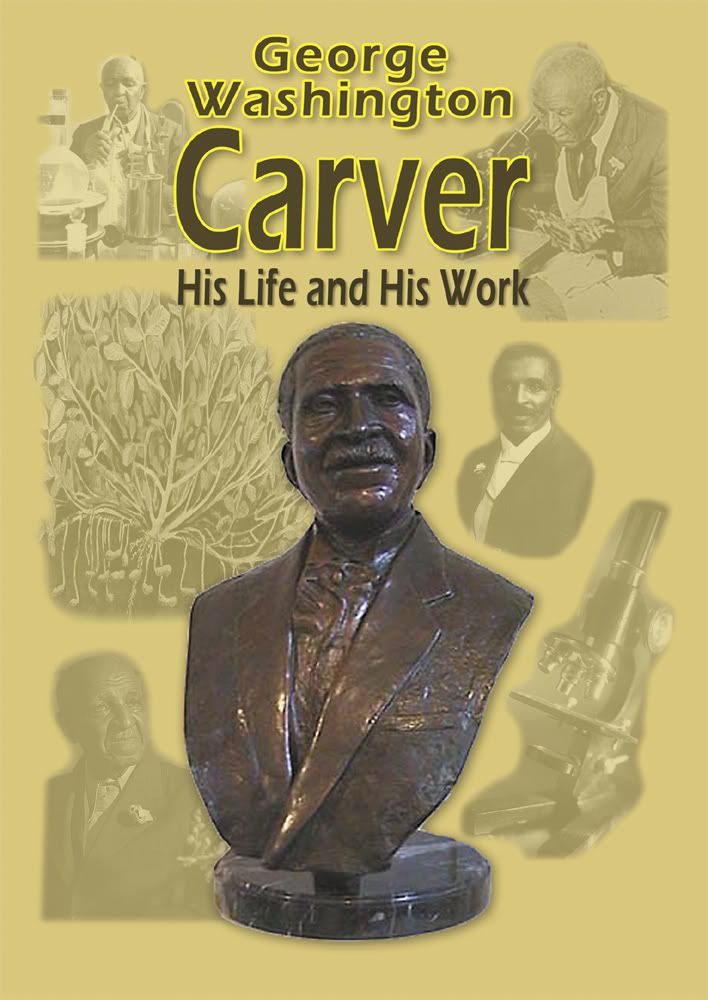 George Washington Carver His Life and His Work DVD
Marshall Publishing
1-888-300-3455
www.marshallpub.com
$19.95
Review Readers can use code: TOSC1 for a 15% discount at checkout
Marshall Publishing also carries a wide variety of history DVD's, as well as DVD's about animals and vehicles.
From looking at history books one conclusion I've drawn is that a number of them do not do a good job of tying history together for the reader. Events and people are discussed but if a person didn't have a direct impact on an event they are seldom mentioned in the text. Often they are just relegated to a sidebar consisting of several small paragraphs about their achievements. Thus the reader may come away with an idea of what the person did, but only a vague idea of where they fit in the whole puzzle of history. This is not the case with George Washington Carver, His Life and His Work.
George Washington Carver, His Life and His Work begins by setting the historical stage for Carvers life. He was born to a slave mother in Missouri towards the end of the Civil War and, along with his mother and sister were kidnapped. The man who owned his mother found him, but not his mother or sister, and brought him back to their home. There he was educated and eventually moved to other places in the Midwest to continue his education. After much hard work and personal contacts he ended up at Tuskegee Institute in Alabama. These facts are detailed in the presentation,thus his place in history is firmly established in the viewers mind. The viewer is able to appreciate all of Carvers' work and achievements in their historical context.
The video begins with nature and flower scenes accompanied by soothing music. While viewers see scenes from where Carver grew up the story of his childhood is told. As his life story is told, actual pictures of places and people comprise the video. The viewer also sees pictures of the actual lab which Carver and his students used. Photographs of Carver teaching and interacting with people are also plentiful in the movie. A fair amount of footage from Tuskegee Institute is also used.
A
study guide and discussion questions
are available after the description of the DVD.
My Thoughts about George Washington Carver, His Life and His Work
I was pleasantly surprised while watching this movie. I was not very impressed with the opening which consists of music playing and pictures of plants, but soon came to realize that was a fitting opening for the story of a man whose life was dedicated to plants.At several points it appeared to me there were actual clips of Carver himself talking or what was being said were things he wrote. I also really liked how the movie stuck to facts and did very little interpreting of those facts. I also liked how it was not cartoony, but solid history and facts. I think the presentation did an excellent job of making this part of history exciting and meaningful to the viewer. The program does a great job showing how Carver worked to get an education and did not stop but went on to use that education to benefit a great number of people. It presents the possibilities education and hard work bring to a person and community in a very positive light.
Several months ago we spent some time studying the state of Missouri and learned some basic facts about George W. Carver and his work. However, we could not find resources which went deeper than his teaching farmers to plant peanuts to restore nutrients depleted by years of growing cotton. This DVD tells so much more of his accomplishments. It is a beneficial resource and addition to studying the state.
I watched the movie with both my 7 and 10 year olds who appeared to enjoy and learn from the movie. My 7 year old particularly enjoyed seeing the cotton fields and plants. One thing which stood out for my 10 year old occurred when Carver was a young man and he met another person with the same name. So, according to the movie, he added the initial W. to his name to avoid confusion. She thought that was particularly clever.
They were also impressed by the fact that the only piece of real lab equipment Carver had was his microscope, which had been a gift before he went to Tuskegee. Upon hearing and seeing this they remembered seeing the microscope in a traveling exhibit at the history museum a while back.
This DVD presents the interesting story of a self motivated man who overcame obstacles and continually sought to help others by sharing his knowledge and skills.
Learn what other Crew members had to say about this DVD as well as other DVD's by Marshall Publishing & Promotions at the
Crew Blog
.

Disclaimer: I received a complimentary copy of this DVD in order to write this review. I have not been compensated in any other manner. All opinions expressed here are solely my own.