Wits and Wagers Family
Northstar Games
North Star Games also produced other family games
Ages 8 and Up for 3-10 players
$15.23 at Amazon (You will be directed to Amazon from NorthStar games website)
Northstar Games has a
map locator
to find retailer near you.
Wits and Wagers Family is an exciting concept in board games.When you open the box you will find a dry erase score board, six index card-sized dry erase boards for each player or team and a board with a #1 printed on it, two Meeple game tokens (1 small and 1 large) for each player/team in the same colors as the mini boards, and dry erase pens for each board.There is also a stack of question and answer cards in a tray.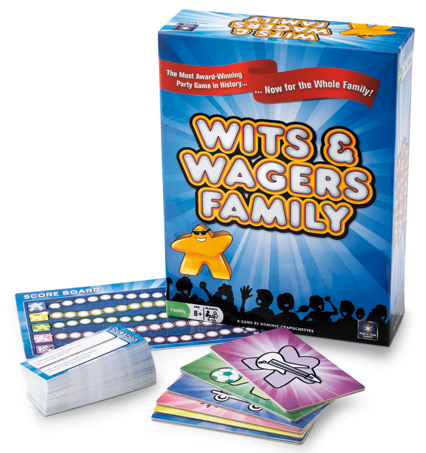 Wits and Wagers Family can be played by individuals or teams of 2. Each player or team needs one board and two Meeples in matching colors and a pen. Players or teams take turns reading a question on the card and then everyone rights their answer on their board. All questions are answered with a number. Boards are then placed in numerical order in the center of the playing surface behind the number 1. The players then look at the other players answers and place their Meeples on the boards which they feel have the closet correct answers without going over. The reader then reveals the answer to the question. Whoever wrote the closest correct answer receives a point. One or two points are also rewarded to the players who put any of their Meeples on the board with the correct answer; one point for the small Meeple, two points for the large Meeples.
Meeples are small colored tokens that look like a cross between a person and a star.
My Thoughts about Wits and Wagers Family
I really like the design of this game. The idea of dry erase boards is ingenious. I love not having to use paper to keep score or play; less paper in the box or floating around makes me a happier Momma. All of the game items fit compactly in the box by being stacked on top of each other in the compartmentalized plastic holder in the box. Then the score card fits neatly on top of everything else. The whole box is approximately 8 by 10 inches by 3 inches tall so it doesn't take much room on the shelf at all.
The questions cover a wide variety of topics so it is fairly easy for all ages to play. Some things had to be explained to my 7 year old though, he was not familiar with the term
percentage
for example. Some of the guesses were pretty hilarious at times. Both he and my 10-year-old loved playing. They couldn't get enough and wanted to play almost every day. At this rate we will need to have an additional set of question cards to keep us going.
Scoring is simple and straightforward. It is possible to score pretty quickly too, so that helps to keep the game moving along. No one got bored because the game was too slow-paced. It also didn't take hours to play a game and have young minds wander because they lost interest. Generally it took us about 40 minutes of playing time before someone scored enough points to win the game.
This game will have a broad appeal to many families because it engages different age groups, has a variety of questions, and helps to foster a friendly playing experience that does not drag on in today's busy world.

Disclaimer: I received a free game set in exchange for this honest review. I have not been compensated in any other manner. All opinions expressed here are totally my own.