Visual Latin is designed for students age 9 and up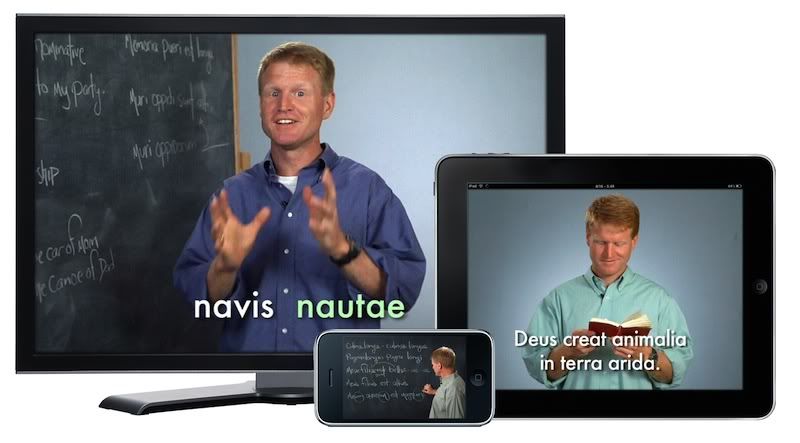 Visual Latin is available in DVD Format as well as
in a digital download iTunes M4V format. This means they can be played on any computer or ipad,iphone,or ipod.
There are currently 30 lessons available in either format.
Additional classes are scheduled to be released.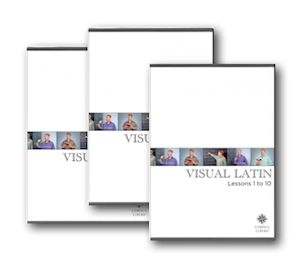 Visual Latin is available in DVD or Download format. For this review I received a DVD copy.
DVD for family use Lessons 1-30 $80.00
DVD for family use Lessons 1-10 $30.00
Download for family use Lessons 1-10 $25.00
Interactive Classes are also available.
It is also possible to purchase a license for group/co-op use. Check
website
for pricing.
The philosophy behind Visual Latin as shared on their website:
It's better to make students laugh than yawn.
Shorter videos teach more effectively than longer ones.
Small successes lead to big successes.
Children like reading Latin more than memorizing it.
Thus the format of Visual Latin. A complete lesson on the DVD is approximately 20 minutes and Dwane injects humor into his explanations quite frequently and the material is presented in small, easily digestible bites.
Visual Latin is designed to be used by both children and adults who have no previous experience in Latin. The only preparation required for these lessons if to print out the worksheets and answer keys. These are available on the DVD in a computer Pdf format. They can also be downloaded from the Visual Latin website.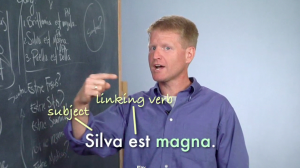 The Visual Latin classes are divided into 3 sections: Grammar, Sentences, and Reading. The first section presents and defines the grammar concept for the lesson with several examples. In the Sentences section the concept is explored in greater detail and is practiced in more depth using phrases and sentences, which often are related to each other. Some of the words and phrases used are shown on the bottom of the screen as their are being taught. For the most part the information being shared is written on a chalk board that can be seen by the viewer.
The Reading section features Dwane reading an short narrative about Creation. First he reads the whole selection, then he repeats it one phrase at a time leaving time for the student to repeat what he has just said. During the whole reading session what is being said is shown in words at the bottom of the screen so the viewer can follow along.
The first ten lessons cover:
Being verbs (two lessons)
Gender
Singular and Plural
Declensions
Noun Adjective agreement
Nominative and Genitive cases
Counting to 10
Active Verbs
Accusative case
Visit
Visual Latin
to see a short video by Dwane. Visual Latin also offers the opportunity to view the 4 introductory and 2 Regular lessons via download from the
website
.
We have been learning Latin for a while and it is one of my childrens' favorite subjects, so they were very excited to have the opportunity to use Visual Latin. Both of them (age 7 and 10) and I watched the first 10 episodes of Visual Latin as well as the introductory sessions about the language and reasons for learning Latin. They both completed the worksheets for the first 7 lessons, except they did the translation out loud rather than writing it out. (Neither of them enjoys writing very much.) They both really enjoyed watching the videos and appear to have retained a lot of the information.
This was not our first Latin class so some of the information presented in the first couple lessons was review for us. But the different presentation/teaching style was helpful for review and getting back into the subject after a break this summer.
The lesson presentation is very clear and engaging for the student. Dwane often makes humorous comments, jokes, or little stories during the lesson presentation to engage the student and keep interest. My children both enjoyed these. But for me these tended to be distracting from the lessons.
The lessons use simple, clear, effective examples to teach the concepts in each lesson. The examples are connected and build on each other, thus the student can easily see how a concept operates in context and with other sentence elements.
When we were about half way through the course I came up with the idea of muting the sound on my TV during the student response time of reading/translating. This gave my children the opportunity to read and speak the Latin without having to wait and possible run out of time before moving on to the next phrase. They took pride in being able to read the words and say them without acting like they were just copying somebody else.
One drawback we experienced with Visual Latin is that there was not a lot of material available for practice/review or working with the concept. While the lack of written work pleased my children I don't think there was enough material available to help them really learn and practice the concepts taught.
Personally, I think vocabulary is an important building block of learning a foreign language. So I was pleased to see the variety and quantity presented in all of the segments of each lesson. It would not take much work on the teachers part to assemble these words for each lesson to help the student review them in addition to using them in the worksheets. I think this would make the words stick better and help the student attain a better grasp of the language.
I also like that the fact that Dwane pointed out the English derivatives quite frequently throughout all the lessons. This meshes nicely with one of my reasons for having my children learn Latin. I want them to understand the origin of our English words.
I believe Visual Latin is a great option for children and parents who wish to learn Latin in a less stressful manner at a slower pace than other programs or with less written work. Visual Latin is a very concrete method for learning the Latin language.
As everyone has different experiences and thoughts about curriculum, please see what other TOS Crew members had to say about Visual Latin at the
crew blog
.

Disclaimer: I received a free DVD copy to use for the purpose of writing this review. I have not been compensated in any other manner and all opinions and thoughts expressed here are solely my own.